How long did it take you to write the book?
It took me six months from start to finish to write the first draft of Jack Canon's American Destiny.
What is your favorite drink? I love Ice Tea, especially with lemonade in it.
Who is your publisher? Itoh Press is my publisher
Are you reading any interesting books at the moment? The untethered soul.
What is your least favorite quality about yourself? I tend towards impatience.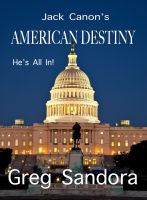 Buy Now @ Amazon & Smashwords
Genre – Political Thriller
Rating – PG
More details about the author
Connect with Greg Sandora on Facebook & Twitter
Website http://www.gregsandora.com/