Forgetting breakfast (not to mention my English homework), I pulled on my clothes and ran down to our basement where we had a weight bench. Aunt Sophie had gotten it for my last birthday, telling me that if there was ever a year when I wanted to work out and get stronger, this was it.
I had used it a little, but mostly it was just another place where we stored our basement junk.
I grabbed two forty-five pound plates and slid one on each side of the bar.
I eyed the bench press with those big weights on each side. The bar was another forty-five, making it one hundred and thirty-five pounds. No way. The most I had ever done before today was just the bar and twenty-five pounders, and that almost did me in after lifting it once.
Even though I was feeling strong, weirdly strong, I decided that I was being too optimistic. So I slid the forty-five pound plates off, replaced them with twenty-five pounders and lay down on the bench.
With a deep breath, I heaved the bar up, balancing it over my chest with locked arms. Slowly, I lowered it, half-expecting it to drop like a rock and crush me. But it didn't. I rested it on my chest for a second and then tried to push it back up. My arms shot up like there was no weight at all.
I smiled, and banged out five reps right in a row. No sweat.
I racked the weight and sat up, looking at my arms in wonder.
You know what I did next, right? I grabbed the forty-five pounders and put them back on. I lay on the bench, looking from side to side at the giant weights, having second thoughts. Then I decided to go for it.
I grabbed the bar, lifted it off the rack and, straining more than last time, I lowered it to my chest then raised it back up. Ten times.
"What are you doing down there?" Aunt Sophie shouted from upstairs.
"Coming!" I yelled as I racked the weight.
I felt my chest muscles, not sure what was happening to me. But liking it. Whatever was going on, I wasn't asking many questions. I decided to just go with it.  Maybe this was what turning fourteen felt like.
"Jack Smith!" Aunt Sophie yelled.
I decided I would worry about it later.  I ran upstairs and dug into the huge breakfast of bacon, eggs and toast that my Aunt Sophie had fixed. She poured me some juice and combed my unruly hair back with her fingers. She sat at the table, sipping her coffee, looking just a little sad. Even though I was jazzed about what had just happened, I was concerned.
"Anything wrong, Aunt Sophie?" I asked.
She shook herself out of her thoughts and smiled at me. "No, nothing wrong. Tell you what. Tonight's your last meal before turning fourteen. You can have anything you want. What's your pleasure?"
"Anything?" I asked.
"Anything."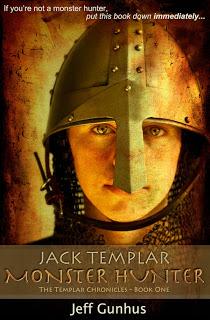 Buy Now @ Amazon
Genre – Middle Grade / YA Fantasy
Rating – PG
More details about the author & the book
Connect with Jeff Gunhus on Facebook & Twitter
Website http://www.jacktemplar.com/